Before my generation it was impossible to be a teenage boy with a fetish for the synthesizer. The piano did nothing to stir my blood; it might as well have been a shipping crate with a keyboard and a couple of pedals. I'd played the violin for a few years in grammar school during the Suzuki method craze, but I hated carrying around that hardshell case, and practicing got in the way of "Hogan's Heroes," "The Brady Bunch," and all of the other afternoon reruns that filled the hours between school and dinnertime. My one and only performance on the violin had been a letdown–I'd gotten so nervous beforehand that I tried to fake my way out of it by pretending I had a stomach bug (no dice), and any sense of triumph I might have felt by gutting it out and taking the stage with the rest of my class was instantly marred by how awful we sounded. The bass guitar did hold some allure, especially once my brother became a straight-edge Hardcore hero, but my favorite bands all had a synth player, sometimes more than one, and I liked the way that synthesizers seemed like the electronic brain of a band, a bank of mainframes wired together by engineers and programmed to emit the music's heartbeat, its arpeggiated pulse.
I wrote an essay recently about my early love of synths for The Common, a newish literary magazine published out of Amherst College. Originally they were going to use an image of the first and only synthesizer that I ever bought, a Roland Juno 6, for the magazine's cover, but when that proved too unwieldy for the design team, they settled on the image of a ping pong racket–the essay is also about the lopsided games of ping pong I used to play with my best friend in high school. Here's the cover of the issue: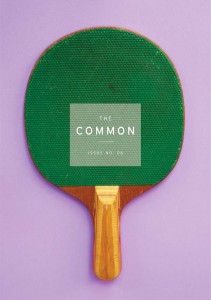 You can purchase a copy of the Issue number 6 of The Common here, either in print, a pdf, or a digital copy for your Kindle.